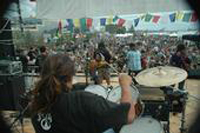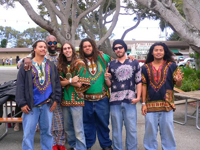 Click below for press kit and links to press photos and music demo tracks.

Also click here for press photos and Music demo

Music demo

To download PDF format,PC users right-click and choose "save target as", Mac users hold the mouse on the link above and choose "Download Link To Disk".
Upcoming shows
See "Upcoming shows" at the Tours Page
Russian River Monthly review
They are heaviJy influenced by the Psychedelic jamming of the 1960s, which, to them, was a period of peace, love, good vibes, people in motion, and experimentation. They believe they're "preserving that culture, building on that energy." FreeSound's message is one of rebirth, and they are looking for like-minded individuals who want to become involved. They see a lot of good energy in the world, but it's scattered, and they want to help draw it together.

"FreeSound played on. The audience wanted more and the band happily complied. By the end of their 10 encores the sky was dark, with a half-moon silhouetting trees high on the ridge.
Monterey County Weekly Sept. 22, 2005
Marathon Band

"The folks in reggae/rock band FreeSound are making quite a name for themselves locally. Diana Ballantyne, manager of Big Sur's Fernwood Bar, says that she let the group play on the roadhouse's back deck a few months ago. She says the band exceeded everyone's expectations by playing a jaw-dropping seven-hour set of tight reggae and rock numbers. Apparently, the crowd would not let the guys leave and cars passing by on Highway 1 swerved into Fernwood's parking lot after catching a whiff of FreeSound's music."

Stuart Thornton, Monterey County Weekly Sept. 22, 2005
Adam Palumbo, Pres. of Dulce Records 6/18/06
The Music Soared!

"FreeSound's live performance was beyond words- the music "soared".
There was an energy, a spirit, a soul that permeated the air and had the audience absorbed in the vibe.
Many in the audience had been to the Russian River Blues festival and were quick to comment that this band gave out more soul and heart than many of the artists that performed that day at the festival".

Banghi Air Jamaica on KLCC Radio
"I really was impressed with Freesound when they did the show at the Jungle with The Itals.I have a cd they gave me that I'm playing to get people informed about the group. Lots of folks are excited about Freesound coming back to Eugene. Please feel free to send any music or info you have about them to me-this will help to promote the group here in Eugene. Looking forward to seeing the gang again on the 17th.
John Berger of the Honolulu-Star Bulletin- review of "Roots Is.."CD
Imagine a band whose original repertoire suggests the legacy of Cream, Led Zeppelin, Aerosmith, Lynyrd Skynyrd, Metallica, Vanilla Fudge, and the basic classic rock sound in general -- but also plays straight reggae, never sounding like it's directly copying riffs or melodies. That's the music of Freesound, and "Roots Is ... " is clearly intended for people with equally eclectic tastes.
The quartet opens with a somnolent number, "Up We Go," followed up by the screaming rocker, "Black Rider," a song that suggests the dual influences of J.R.R. Tolkien and Aerosmith. The third song, "One Bright Day" (not the Ziggy Marley number of the same name), has a smooth reggae groove with a positive Rastafarian message -- and, yes, these guys understand what real "roots music" is, too. Hopefully, there are people out there with musical horizons as broad as theirs to embrace this album.
Honolulu Advertiser
Roots Is ..." by Freesound (Off the Gourd Records)
Genre: Roots reggae, rock, soul.
Distinguishing notes: After 1 1/2 years away from Hawai'i, Freesound, a foursome of Kaiser High grads, is back with a vengeance. Keith Batlin, Adam Crowe, Mike Loveless and Tavana McMoore perform a gamut of rock styles, some with psychedelic undercurrents ("Shine on Me"), others with a reggae punch ("One Bright Day"), even a smidgen of Led Zeppelin ("Evil Moon"). The tunes are more mood-setters than sing-alongs; that is to say, the group is able to impart a feeling of being transported to another time and place in the rock realm.
The outlook: The band has a take-notice sound
Our take: Freesound is cultivating a niche in the island club scene
Wayne Harada of the Honolulu Advertiser
The Daily Barometer
..Joining The Itals for local shows -- The Jungle in Eugene on May 10 and Platinum in Corvallis on May 12 -- Hawaiian/Pacific Northwest band FreeSound.

"We're from Hawaii, we're a jam band, and we're just trying to blend styles and sounds, funky grooves and psychedelia," Crowe said. "When we play it is usually pretty much about the music, and our music is definitely a message. We represent unity of people, and getting everybody together while we can to save what we have."

Normally known as more of a psychedelic rock band, the talented group will be playing roots reggae for the show....Because of the versatility of the band members, FreeSound can play almost any type of music.