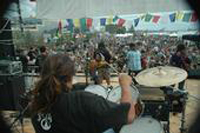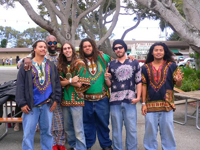 Click below for press kit and links to press photos and music demo tracks.

Also click here for press photos and Music demo

Music demo

To download PDF format,PC users right-click and choose "save target as", Mac users hold the mouse on the link above and choose "Download Link To Disk".
Upcoming shows
See "Upcoming shows" at the Tours Page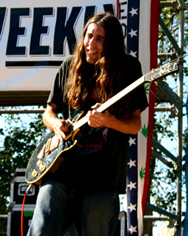 Adam Crowe
Lead guitarist Adam Crowe fills in the music with vintage guitar mojo dosed with phasors, echo, and wah wah. His playing style blends elements of spanish classical, delta blues and psychedelia of the 60's & 70's. Adam began playing guitar when he was 11 years old and ukelele when he was 8.

In 1999, at the age of 16, Adam wrote and recorded "Who Knows", his first album of instrumental soundscapes and has since written or co-written another 5 albums. His delta blues, island styles, and fingerstyle guitar can be heard at adamcrowemusic.com . As the lead guitarist for FreeSound, Adam brings great color and dynamics to the FreeSound live performances.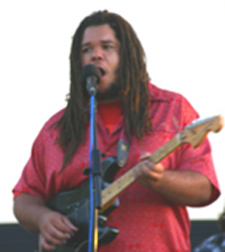 Keith Batlin
Keith Batlin's vocals and harmonies cover a truly amazing range of styles and complexities, easily switching textures from honey/silk to smoke. In his voice you can hear traces of Al Green, Bob Marley, Jimi Hendrix, and Robert Plant.
Keith Batlin was born in Carmel CA and raised in Seaside CA and Hawaii. Keith came from a musical family, and began playing trumpet and tuba from an early age. Keith received a scholarship from The Monterey Bay Blues festival recognizing young blues talent, so in early 2000 he enrolled in the Musicians Institute in Hollywood CA. At the same time, he and Adam Crowe founded the band FreeSound.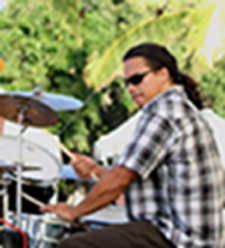 Brian Kusko
Brian Kusko was born in Livermore CA. He started playing piano at age 7 and played in school bands in the S.F. Bay area. Won The Bud Kane Award for outstanding musicianship and was sent to CMEA, a California State event for the best school band members. At age 16 he took up guitar and drums. Also won the opportunity to go to Sound Wall, in Santa Clara, a program that brought together musicians to work together in all aspects of putting on a concert. He attended Musician's Institute in Hollywood CA.
Instrument proficiency: piano, keys, violin, clarinet, baritone, guitar, bass, drums, percussion, harmonica.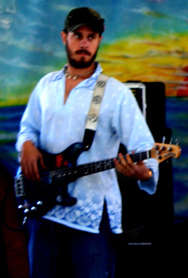 Ryan Brandvold
Ryan Brandvold, Born on Oahu started playing music with Keith and Adam in the pre-Freesound days of high school. Through late nights at blues bars, afternoons jamming on campus, and evenings filled with cozmic mountain and beach sessions, they really started grasping each other's playing styles. In 1999 they all moved to L.A. to attend Musicians Institute in Hollywood-- Keith and Adam as the beginning stages of Freesound, and Ryan with long time brother band Treazen.

In early 2005 Ryan linked up with Freesound to create the string triad foundation of the Sound. Where it goes from here is up to the Most High.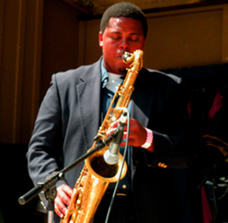 Malcolm Lewis
Malcolm brings depth to the band with the silky smooth sounds of his tenor saxophone. Malcolm has enjoyed several tours with FreeSound throughout the Mountain and Northwest regions and has performed at major festivals and concert series with the band.

When not performing Malcolm can be found still pursuing his passion - as a Northwest Academy middle school music instructor in Portland Or. Malcolm Lewis was a scholarship recipient and 2001 graduate of Northwest Academy.

He performs with the following bands and projects out of the growing Portland, Oregon music scene:
Madgesdiq including opening for K'Naan; Malcolm Lewis Project; and Revalations.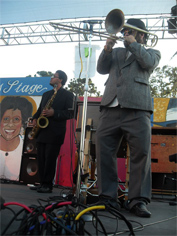 Brandon "Masta Melodics" Hutson
Brandon brings depth to the band as the man behind the Keys, Trombone and Melodica. Brandon started piano at 9, trumpet at 11 and ended up on slide trombone at 15. He studied jazz, classical and music theory/ear training at Mt. Hood Comm. College(Oregon. There he also began to study Jamaican music; and reggae music and the culture behind it led him to become a more spiritual person.

In 2000 Brandon formed the Uprite Dub Orchestra (UDO) in Portland OR and he also played in the Portland bands- Instigators, Seventh Seal, and Everyday Prophets and backed artists Winston Jarett and Paapa Wastik.
UDO and Freesound enjoyed a tight relationship dating back to 2004 including playing many shows together (e.g opening for Israel Vibration and the Itals).
In 2007, Brandon did a Canada to Cali tour with Freesound and met his future wife sista Roz at the Monterey Bay Reggae fest when she flew in from Hawaii to sing harmonies with the group.
He also performs with Guidance, Dubkonscious, Go Jimmy Go, and the Spacifics.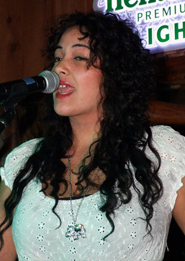 Mindy "Smokestack" McPeek
- Vocals/Vibez. Mindy's heartfelt vocals add a new kind of spice to the Freesound flavor. As the newest member and only female in the band, Mindy brings high energy and positive vibes to the live performances. Born and raised in a bi-lingual home in Hamburg, Germany, Mindy picked up the musical passion of her mother which resulted in weekly voice lessons. During school years, Mindy played various lead roles in school choir performances. At age 11 she started playing the flute in school band, at 13 following a family move to Hawaii began singing in the church choir, and by age 16 Mindy was leading church choirs for a congregation of over 1,000 people. Mindy there learned to sing harmonies and to develop a stage presence. In 2006 she sang internationally with the church choir in Germany and Haiti. In 2008 she became a fan of Freesound music and soon thereafter joined the band. She made her first band tour this past summer 2010.
More band members
bio available soon
Marco Lesher- keys